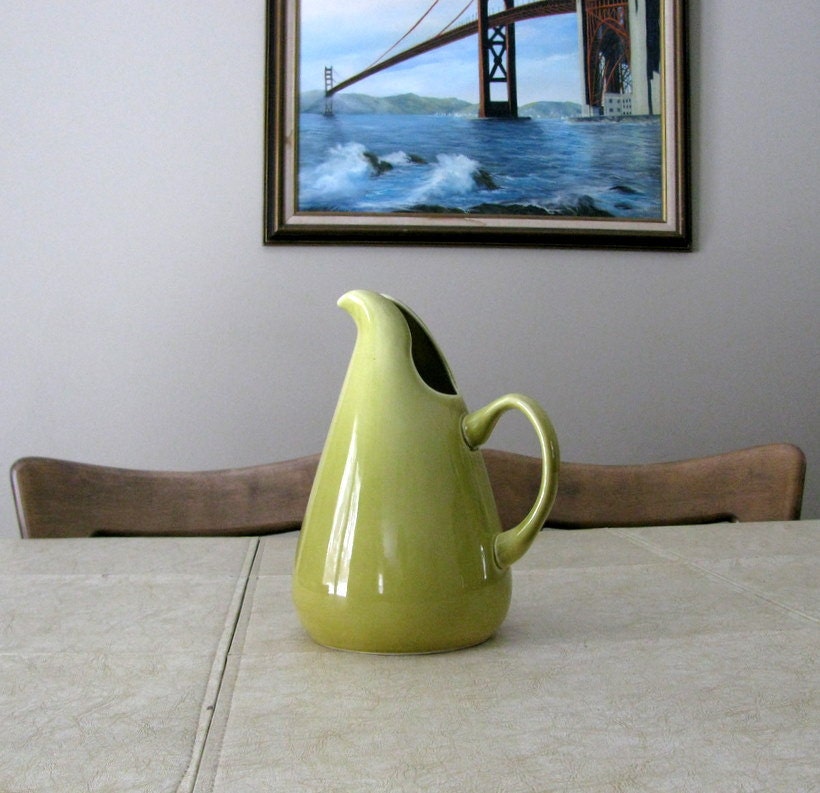 I suppose that every person who loves to make a house a home has some one thing (or perhaps many things) that they foresee being the icing on the cake. My one thing is a vintage Russel Wright water pitcher in chartreuse. As you can probably tell, I'll search to the ends of the earth for something old and great and I often see them at antique stores but I haven't yet found the color my heart is yearning for in a price range I can handle.
Russel Wright was an industrial designer in the early to mid 1950's. He is perhaps most famous for his colorful, simple, elegant dinnerwear which he mass produced in order to make high style and great quality affordable for the middle class. His dishes are really the only things that I collect, the first set I ever saw spoke to me so deeply I became enamored and have searched high and low for affordable pieces. I've collected quite a few including a pretty extensive set of serving dishes, a tea set and six matching plates. But those pitchers, the pitchers are the most extraordinary of his designs.
On leap day, during our dinner party, I kept going back to the kitchen with water glasses in tow to to fill them up. I guess I could just buy a cheaper water pitcher but why get something that's less life-changing just to fill the place of the eventual rightful piece? I'm thinking I'll hold out until the day comes when my courage is present enough to hand over the cash for this, the most beautiful of all chartreuse water receptacles.