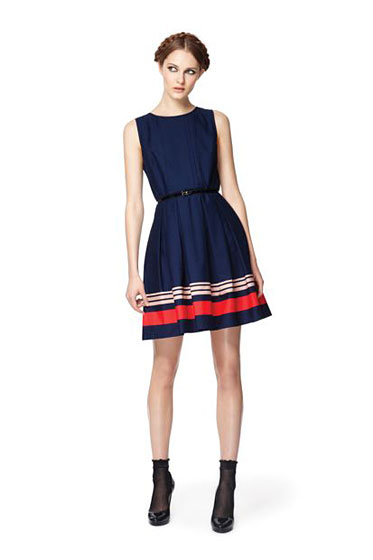 So I saw the new Jason Wu for Target collection on NY Mag and a shot of excitement went through my veins. The dress I'm loving the most is this very nautical, a-line beauty. So I checked his debut date (February 5th) and started to build up the courage to brave the Atlantic Center Target when it hit the shelves.
Then I thought. My goodness this looks like it came right out of the 60's. I wonder if I could find its replica on Etsy.com. Target, though they do support some organic textiles, isn't the best when it comes to environmental impact and buying real vintage is better for everything -- instead of making something new, use something old!
So, here goes: Jason Wu for Target vs. Etsy...
This is the first one I found. It is straight out of the 1960's and is perfectly mod from the zipper to the slanted pockets.
Here we go again with a lovely little nautical day dress. Also from the 1960's the diagonal detailing on the bust would be flattering to just about any shape.
Though obviously not the same color blocking, this lovely striped and collared number definitely speaks the same language as the Jason Wu, a-line frock.
This one is most definitely my favorite. A boat-worthy, sleeveless jumper perfect for a Sunday outing on the East River-- too bad it is the middle of winter here in New York City.
While we're at it let's just get a little silly. If you're looking for the perfect cocktail dress for a nautically inspired evening look no further than this stunning 1950's number. Imagine the lady that used to rock this one. I wish I could meet her.
So it looks like Jason Wu's got nothing on a cursory Etsy search.
"1950's nautical dress"= 10 points -- Jason Wu = 0 points